Even if you have a perfectly designed website, you still have to decorate it with the perfect content that caters to audience necessity and search engine algorithms. And the foundation of any quality content or article is the right set of keywords. So, it has a direct link with SEO.
If you can't find the relevant keywords regarding your topic, you will highly unlikely get well-optimized content. Also, the content has a near-zero chance to rank higher without the proper keywords. Thus, you must look for the best keyword research tools that tell you the precise competition for a keyword, and it is doing in different search engines.
Thus, there's no doubt that every website owner hankers after the right keyword research tool to analyze their niche-related keywords. Sadly, there's no shortcut to finding the most suitable keyword analyzing tool for a content writer or SEO expert.
You have to go through several trial and error phases to find the right tool for your content and keywords.  Here we have included 8+ best keyword research tools for SEO service to help you find the most effective, non-competitive, profitable, and rank-able keywords to generate sales and revenues with solid ROI.
Why Should You Use The Keyword Research Tools?
Keyword research refers to the practice of researching and deeply analyzing the common industry and niche-specific words, terms, and phrases. The focus is to find those phrases or sets of words that are driving audience and search traffic to the result pages from different search engines.
When people search with specific terms or keywords such as, "What is the best keyword tool right now?, Google shows the related result pages in its search console. The keyword research helps SEO experts and writers to quickly identify those keywords that people search mostly.
But keyword research tool does something more than just finding the high-volume keywords. The right tool will not only provide you data on the high-volume keyword related to your products or services but also shows you the competition going on different websites to rank with the same keywords. Thus, you have the proper idea of the keyword difficulty to rank higher. The keyword tool gives you keyword ideas about the search volume and search competition. Some SEO tools like Moz, Ahref are also giving you the best keyword list.
Also, SEO experts rely on long-tail keywords to narrow down the competition and offer search engines better insight into your content to show it in search results.  Therefore, these long-tail keywords will help your SEOs to bypass unnecessary competition while remaining higher in search results.
Keyword research discovers new search trends and measures SEO difficulty. Business owners can realize their search campaigns and optimize content pieces. These well optimize competitive keyword is very helpful for content marketing. Tool for keyword make easier the journey of the keyword research process and help to find the best keyword strategies.
The importance of keyword research strategies in Digital marketing is vital. Tool of keyword research toolkit finds untapped keywords. You can target keywords with full confidence.
Keyword research tool helps you analyze these long-tail keywords with ease.
Next, you can also know the actual performance of specific keywords at a specific time of the year. It is vital since some products are seasonal and won't be up on the search engine during other times. Most keyword research tools including Google Trends will show you how many people are searching for a keyword at what time of the year.
It helps you to prepare plans earlier for content. Also, these graphs highlighted by the tools will help you know what keyword is seasonal and what is for year-round use. It has a direct impact on search traffics ad your business revenue.
Thus, a keyword research tool is essential for-
Finding the right keywords for your specific products, services, or niche.
Identifying the true keyword difficulty and competition.
Knowing whether or not a keyword or phrase is seasonal or year-round usable.
The actual search volume of the specific keyword and competitor analysis for it.
Finding the long-tail keywords to rank quickly and bypassing the competition.
Which are  Best Keyword Research Tools (Expert Pick)
Keywords, as we already have described, are the foundation of SEO. All other SEO tricks such as SEO-friendly content, on and off-page optimization, UX, etc. will follow the keywords. That importance being said, we introduce you to nine top-quality tools for keyword researching and analyzing.
SEMRUSH
KWFinder
Answer the public (Free)
 Ahrefs
LongTailPro
Google Keyword Planner
SpyFU
Keywords everywhere
Keyword Surfer
Now that we have the list at our disposal, let's see the unique benefits of these tools to give you the best keyword research experience. These tools should help you identify the right keyword that brings results for your already set website strategy.
SEMRUSH: All in One SEO Sniper Tool.
All most SEO experts and marketers unanimously put their thumbs up for SEMRUSH as the #1 keyword research tool available ever.
SEMRUSH is one of the most complete keyword research tools and it offers way more than just analyzing specific keywords. You can apply multiple methods to find the right keyword for your business using SEMRUSH to maximize the traffics.
Use of seed keyword to quickly and effectively find your essential keyword and phrases
Analyzing competitors to find what keyword is driving high traffics for them
You can even analyze the gap between keywords with similar or identical synonyms and search intends
The best benefit of SEMRUSH is its ability to work with URL-based keywords. It comes in handy particularly if you don't know the ABC of keyword researching. You simply put the desired URL or competitors URL or on the SEMRUSH search box and it unfolds the magic.
The tool will highlight all the keywords that the URL or webpage has ranked for in search results. Moreover, you also get other information apart from the keyword data only. It includes monthly or time-specific search volume, and keyword difficulty is something to mention only.
SEMRUSH even suggests you with the right keywords. You will see the 'keyword variation' and 'Related keywords' console where you can quickly find workable keywords related to your products. It assists in quickly finding some other search terms to rank in search pages.
You also test your SEO errors and recommendation with this tool. It helps you with onsite SEO, competitor analysis, traffic analysis, keyword positioning, and more.
Also, the keyword suggestions feature enables you to quickly list the short and long-tail keywords for using as sub-headers or phrases inside the content.
Keyword Difficulty Tool: You can check the difficulty score for the keywords and decide if it is not profitable to work with them or not. It enables you to precisely know which keyword is highly competitive and which has less competition.
Backlink analysis: SEMRUSH suggests you the most trusted and keyword-matched websites for backlinks to rank #1. It relieves you from manually finding backlink websites.
Keyword Manager:  You can add the keyword in the list and SEMRUSH inventory will show the latest data about these keywords. So, you can easily find more profitable keywords without much time and effort.
KWFinder: Best Tool for getting Keyword Data.
Are you in search of a tool that is easy to use and also generates powerful results for your keyword analysis? Well, we bet KWFinder with its amazing features is your best bet.
It has now become a go-to tool for many marketers to search their most profitable keywords without investing too much time and effort. The reason why KWFinder has grown so popular is that it is highly intuitive and easy to use and doesn't lack any features that a standard keyword research tool should have.
KWFinder will show a keyword difficulty score right beside the keywords. So, you won't have to hover over your mouse pointer on the keyword to see its difficulty score. It indeed saves huge time.
KWFinder excels in finding the question-based long-tail phrases and keywords for preparing problem-related and troubleshooting contents. It helps you in finding the keywords that are surely going to rank with targeted words and niches.
You can find both the paid and free versions of KWFinder. There's a great scope to use the 10-day free trial option to see what magic this super-cool keyword researching tool brings for you. And if you are impressed (you should be) you can kick off with the basic plan' for the websites. There's always a chance to upgrade your plans anyways.
Answer the public (Free):
When it comes to a free tool for finding keywords that will rank you higher in Google with great features, Answer the Public definitely tops the list. So, it is the perfect tool to begin your SEO strategy for websites. Also, beginners will find the tool great since they often don't have the money to buy the paid versions of different keyword analysis tools.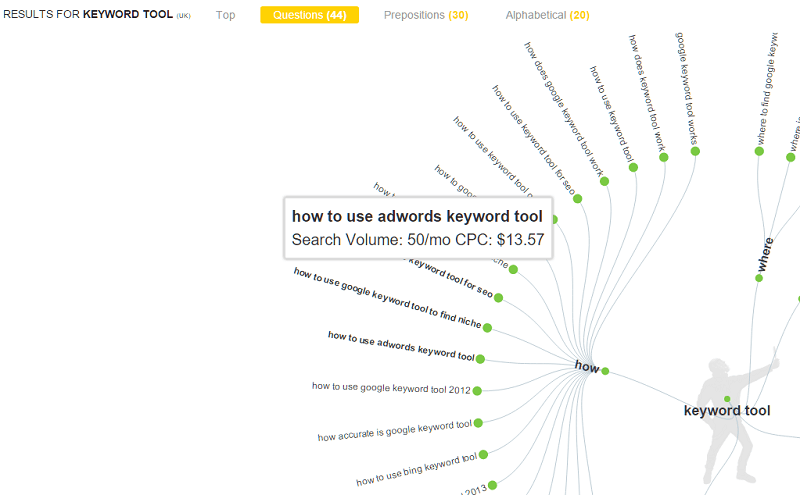 You will able to find relevant long-tail keywords with Answer the public. This longtail keyword gives you more content ideas. Overall Answer the public is a great tool for finding relevant search terms and helpful for search engine rankings.
You will have to use your seed keyword and then, Answer the Public will showcase a range of long-tail keywords which people normally search. The most common keyword suggestion formats include-
Long and short questions
Comparison suggestions
Related prepositions
The tool comes with a circle when you search for specific keywords. The circle includes some common words-
So, if you search for the phrase, 'best keyword research tool' Answer the Public will come with different results. For instance, it will show-
What are the best keyword research tools for bloggers?
Which is the best keyword research tool for Amazon?
The suggestions mainly include Google and Bing's auto-suggestion list in their search pages. Yet, it is quite practical.
You can even set your language and country preference to find specific keywords for local SEO here. It is indeed a practical and cool feature. You can search up to 3 keywords per day using the free tool. It doesn't show you keyword volume.
But that should be okay for beginners since your main idea is to find a set of keywords and later work with them manually and paid versions of different tools.
Ahrefs: Best for Research and Analysing
Ahrefs give SEMRUSH a tough competition when it comes to the most popular keyword researching tool. It also has identical features.  Once you type your desired keyword on Ahrefs search box, it automatically comes with tons of keyword suggestions for you.
Likewise, SEMRUSH, you can also use Ahrefs to analyze your competitor to see the keyword list for what they are ranking higher and you are not. So, you can set the strategy with those keywords also to beat them.
But Ahrefs has another intelligent function to bring out of its hat. You can actually observe the new keyword suggestions and how the keywords move at a different time in search queries using Ahrefs features.
Ahrefs also has a bunch of additional features that include-
Finding broken links on your specific URLs or webpages
PPC keywords if you target Google AdWords.
Keyword difficulty score and volume analysis
We also love the excellent UI experience of Ahrefs. It really makes your staying time on the tool enjoyable besides being result-oriented. It also has massive data storage for analysis to suggest you the right keyword.
Some other practical benefits of Ahrefs are-
Quick backlink analysis and suggestions
An in-depth SEO audit for your websites
Use of Ahrefs dashboard to quickly prepare keyword inventory
Finding the search traffic of competitors
Interlink site audit
LongTailPro
LongtailPro may not be an old keyword research tool, but it is certainly one of the most popular tools nowadays, thanks to its intuitive use and wonderful feature-packed services. This keyword research tool is based on Clouds and it is paid software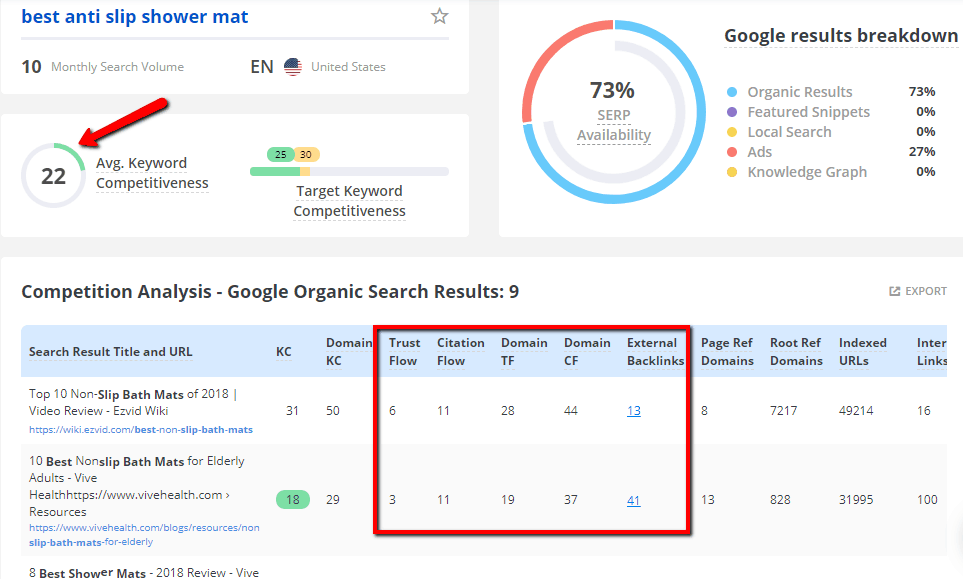 Whether you search for keywords for your niche or micro-niche websites, LongTailPro comes with the most amazing suggestions and analysis. It helps you in dominating competitors in a way that was unthinkable previously. This tool can provide you a good list of keywords with the latest trend. With these, you can accelerate your search engine optimization work.
LongTailPro works incredibly fast. If you have some seed or core keywords ready at hand, you can quickly develop a keyword inventory using the filters the tool offers. You will also love its ability to generate long-tail keywords in a fly to incorporate with the SEO strategies.
The paid version has multiple schemes but we would suggest you go for the 'Platinum' version. You will get some useful features to find the right keyword. Also, you can use the 'competition checker' feature to analyze others and pick some keywords from them which you weren't using previously.
Google Keyword Planner
The Google Keyword Planner is another free version for keyword research with in-depth results and brilliant features. The reason for the popularity of Google keyword Planner is because it is directly integrated with Adwords.
So, it is your best bet for finding the profitable Adwords keyword if you plan for a long-term Google Adsense and Adwords. However, you have to sign-up for Google Adwords before you can start using the free tool.
It brings the most detailed keyword analysis with access to Google for all possible information. Also, the tool is pretty straightforward and doesn't need advanced skills for use. A beginner will easily go on with its suggestions without issues.  However, it lacks competitor analysis and analyzing the performance of a specific keyword.
Nonetheless, we find the tool a high recommendation to start your SEO strategy during the early days of your website. If you need advanced analysis, you should opt for other tools to research your desired and profitable keywords. You also take google analytics for discovering organic search and get a vast idea about organic keywords and organic traffic.
With this idea, you also build good content strategies and also use analytical metrics for google ads.
SpyFU: Best Tool for keyword and ad spy
We found SpyFu highly practical particularly when you search for keywords in a tight micro-niche. Just as its name suggests, it truly spies over your competitors and assists you to stay ahead of them always with the detailed keyword inventory and SEO strategy.
The best part of SpyFu is that you can use it to analyze one competitor without even logging in and for free. You just have to enter their URL and type your competitor URL in its search console. It rest assures you with the most detailed analysis you will ever get.
Spyfu is also a spy tool for spying on google ads. This tool can help you with spying on competitor keywords. Spyfu provides detailed keyword analytics and helps you to build lists of keywords. You will get different variations of keywords. With Spyfu's keyword suggestion tools you can build a list of powerful keyword and it help for content creation.
You can learn from the competitor keywords and even their ads too. However, you have to sign up for the paid version to analyze and compare multiple websites. You can choose between-
The Basic Plan: Not more than $100 and always discounts running on for it.
Agency Plan: It is suitable for SEO service providers who work with hundreds of sites simultaneously.
So, you can quickly learn competitor's SEO strategies and platforms. Additionally, you can quickly discover emerging and underserved micro-niche markets using the tool. It includes four basic search modules for keyword analysis. These modules are-
Website comparison
Keyword history
Related keyword
Domain history
Once you learn how to use SpyFU, it can really boost the traffics to your intended web pages with accurate and profitable keywords.
Keywords Everywhere:
Whether you are up for local SEO service or international branding of your organization and products with quality content, Keywords Everywhere is ready to serve the purpose. We found the tool useful for bulk keyword research and that too without a paid version.
The tool comes as a Google Chrome and Mozilla Firefox extension and quickly allows you to find the right sets of keywords and analyze competitors. You can use it to see the monthly search volume CPC, overall search impression, and average position of keywords and your articles with the least effort.
Keyword everywhere use data metric from google keyword planner and provide exact keyword search volume. You can get thousands of keywords with people intent.
The key benefits include-
You will get some useful and additional keyword suggestions with the tool.
You can download the report in PDF, CSV, or Excel formats. It comes in handy to prepare your keyword inventory quickly.
You can star-mark your profitable and favorite keywords to research on them later directly. You won't have to manually check them. You will find the star-marked keywords quite easily.
Although earlier the tool was free, now you have to pay a nominal credit plan for it. But it's worth the investment compared with its myriad of benefits. The tool now looks snappy and cleaner and is super easy to use.
Keyword Surfer:
Our last recommendation is Keyword surfer which is also another Chrome extension. You can use it to see the keyword CPC and monthly volume. Also, these data are visible right on the SERP page. So, you won't have to put additional effort to find the data.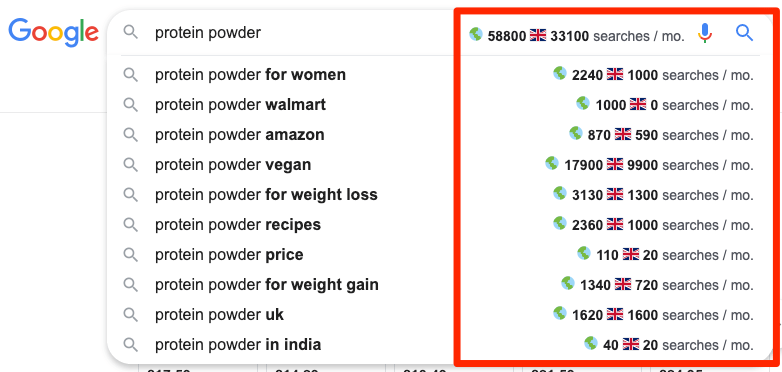 The tool is developed by SurferSEO and comes as a free Chrome extension to offer you comprehensive keyword research. It uses the auto-complete feature to help you invent new search queries related to your products. So, you can quickly find the profitable keywords with the auto-suggestion.
If you are a beginner and don't want to expand on keyword research initially, this extension tool is ready to serve your purpose brilliantly. At least, you will get a clear idea of the usable keywords. You can list them and work on them later for better audience engagement and higher ROI.
Final Words
The success of your website largely depends on finding the right keywords on which you can start developing SEO-friendly content. Thus, keyword research is the base foundation of boosting your website ranking.
Here, we have presented you with the 8+ best keyword research tools for SEO to kick off your SEO and website carrier. To begin with, you may try the free version of the tools and later move to the paid versions. You can read our blog for more intensive content.
For the overall best results, we recommend you choose the SEMRUSH tool or Ahrefs. Both tools work fine and feature identical methods. The last choice comes down to your preference. And KWFinder is recommended for the micro-niche sites.  You will love how the tool explores undiscovered keywords and lets you see the most profitable keywords inventory.